DABBING TOOLS GUIDE: CHOOSING THE RIGHT QUARTZ BANGER,BONG,ENAIL...
 Thanks for stopping into DinoNail Head Shop. We are dedicated to bringing you the best dab rigs, pipes, glass bongs,dab nails available online and we are psyched you are here! Whether you are here for glass bongs or dab rigs we hope you find what you are looking for! Take some time to check out what we have for sale!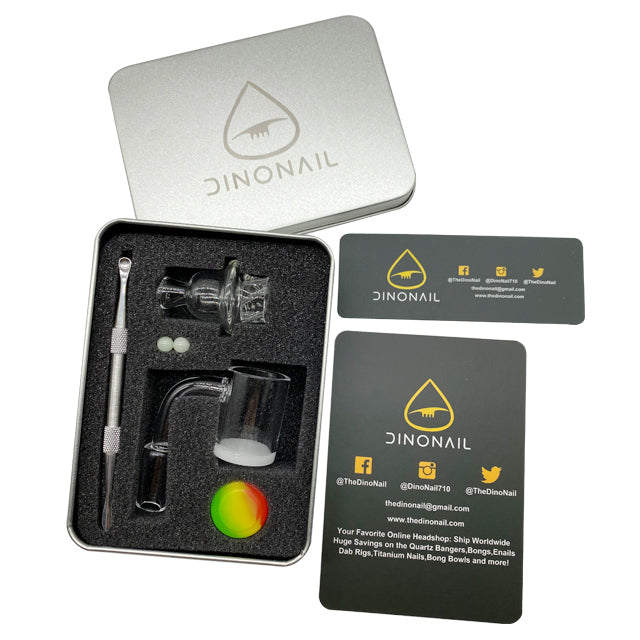 This nail features a 4mm thick layer of our 99.99% pure SiO2 opaque quartz on bottom with 2.5mm thick clear fused quartz walls and a 25mm diameter bucket. The opaque floor heats up much faster than traditional clear fused quartz, but can still hold heat well exhibiting wait times in excess of 80 seconds. The opaque surface is slightly textured which assists in the formation of nucleation sites at exceeding lower temperatures. The material science, and surface science behind the Gavel are quickly making it an industry favorite. 

2.Opaque Splash Guard Banger 25mm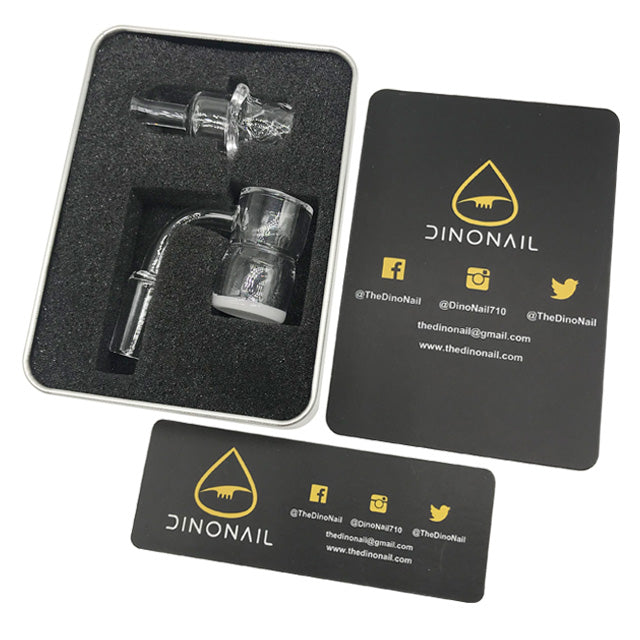 Featuring a 3mm thick rounded opaque bottom.Heats up in 8-10 seconds & retains temperature exceptionally vs normal round bottom bangers.This design adds the advanced nucleation properties of opaque quartz to cold start round bottom bangers, increasing flavor & vapor production at a lower temperate than clear the quartz.

3.Thermal Cylinder Reactor Quartz Bnager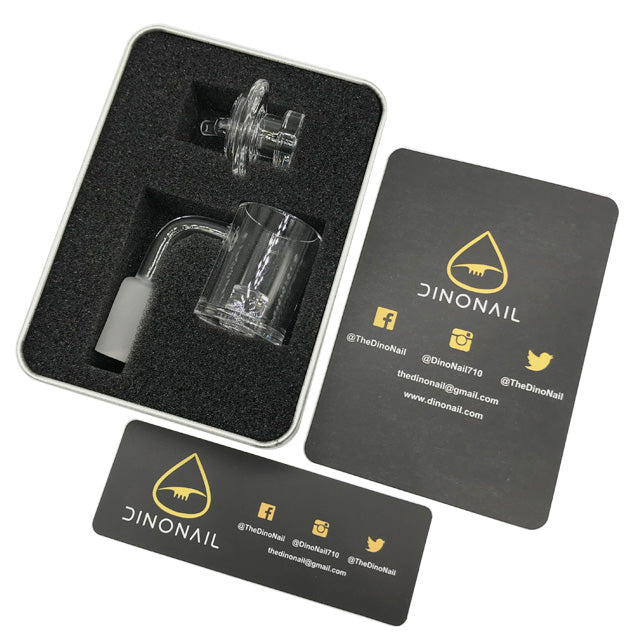 Made for use with any glass on glass water pipe or rig, designed for use with most solid concentrates. Solid quartz cylinder in the center to hold heat and retain a much longer dabbing experience. A must have for the daily dabber.

4.Double Bucket Thermal Quartz Banger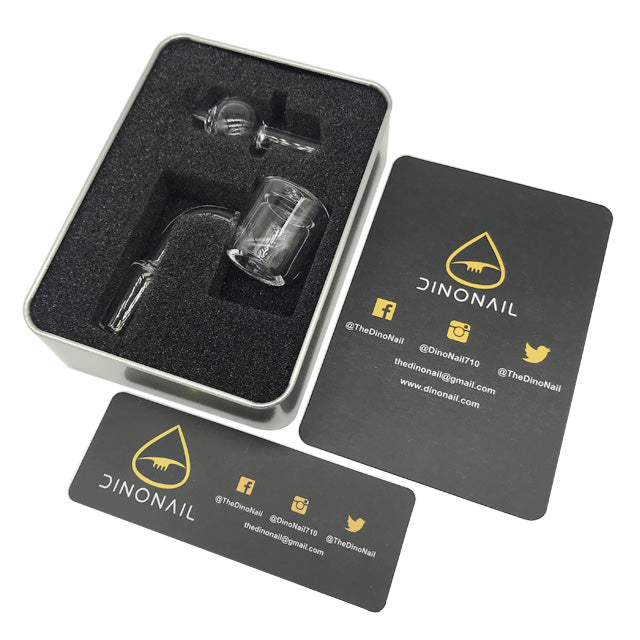 This new Thermal Banger is truly high end.  It features a never before seen double walled cup design that works flawlessly in a traditional banger style setup.  Also, take a look at how huge the cup is.  At 25mm in diameter, it has enough cup space to please the largest of slabbers.

5.4mm Thick Quartz Banger Nail


This 4mm thick quartz banger is the thickest quartz banger available on the market. The high quality quartz and thickness ensure amazing heat retention and unbelievable flavor. Unlike traditional glass nails this design ensures that your torch does not get close to your rig which can cause damage. This domeless quartz banger nail is a must have dabbing accessory for anyone that is serious about dabbing.

6.UV Reactive Glass Bong Luminous Santa Claus Glass Bong



Turn off the lights, reach for your Black Light get ready to see your UV Reactive Glass glow in the darkness. UV Reactive pieces are absolutely amazing and a definite conversational piece. 

7.ROOR Double Honeycomb Glass Bong with 6-Arm Tree Perc


RooR's luxurious RooR Tech Double 6 Arm Tree Perc Beaker. RooR's German inspired scientific glass sits at the top of the industry for quality and innovation. Featuring 3 separate chambers,6 Arm Tree Percs for better filtration and even smoother hits. Splash Guard keeps unwanted water from coming up. Comes with Bowl.

8.Bent Neck Mini Dab Rig


Small rigs with a wide durable body and deep downstem that will work with low water levels. The joint sits hit and far away from the glass. They ship with a flower bowl, but adding a banger. The extended bent neck won't put strain on your neck. Colored accents for eye candy and camoflage decal so they know you're not messing around. Treat yourself to a premium experience for a steal.    

9.Classic Mini Enail (Black)


G9 Classic Mini Enail is a revolutionary device for every series vaper. It allows you to control over tempreture precisely your nail,which means you can enjoy a more flavoursome, healthier vapour than ever possible before.

10.Hand Made Glass Assorted Carb Caps with Dwarf Designs



These hand crafted Assorted Glass Carb Caps with Dwarf designs will be a quick seller and are sure to be the talk of the party .

11.Glass Pencil Dabber with Colored Glass Center


Made of pure glass with crushed colored glass with Pointy glass tip.Has an eraser end to resemble a real pencils.

12.Yoda Head Bong Bowl 14mm/18mm


They look a perfect likeness to the real star wars yoda and will not disappoint they are large thick glass and will look perfect on any bong or water pipe.

13.Quartz Dab Terp Pearls


Throw in your banger for more heat retention and surface area for more flavor.

14.Diamond Knot Quartz Banger Nail


The diamond-style allows dabbing at lower temperatures and offers excellent heat retention, which means less time with the torch! Made with 100% quartz, this domeless nail delivers clean flavors and long-lasting durability. This nail can be used with or without a carb cap with equally awesome results. 

15.Terp Slurper Quartz Banger Nail


The Terp Slurper Quartz Banger is the latest innovation in the dab nail market. It features a design unlike any other quartz banger on the market today and provides you with the best flavor possible. The design ensures that all of your waxes and oils are vaporized and it all drips into the bottom slitted dish. Adding this Terp Slurper Quartz Banger to and bong or dab rig will greatly enhance your dabbing sessions.
---