Payments Processing
Why Was My Credit Card Declined? Possible Reasons and Solutions
Many banks classify our business as 'high risk' and therefore we cannot use conventional companies,like Paypal,Stripe,to process our payments. It makes it very difficult for us to find a better company that can support our payments.  
Payments can fail for a variety of reasons and it's frustrating. 
We understand your feelings and
concerns
.
We continuously work to reduce decline rates for cards processed on DinoNail. 
We really appreciate your orders, and thank you greatly for persevering with the added inconvenience of having to pay by credit card. 

Below, we list the most common decline codes, we explain what they mean, and we give tips on how to fix them.

Common reasons why cards get declined

1. Risk Trading
The payment is flagged as 'unsafe'. This is because many banks classify our business as 'high risk'. Risk control dept suspect fraud on your credit card account,your credit card maybe lost,stolen or hacked. In this context,as international credit card organizations' requirements,please provide the card photo, which can guarantee the card is on cardholder and the transaction is on cardholder's authorization.

Solution: If you get this error, please send one photo of the credit card to email, info@thedinonail.com. Keep the first four digits and last six digits,the middle digits can be covered. (See the following example). The information we collect will be deleted after confirming,to protect your privacy. For regular customers,only need to provide successful shopping history.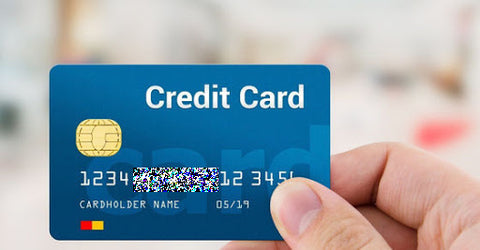 Security: When you use our services, you're trusting us with your information. We understand this is a big responsibility and work hard to protect your information and put you in control. We follow accepted industry standards to protect any personal information you provide to us. The security of your personal and financial information is extremely important to us, and we will do all we can to ensure a safe experience. We will not sell, share, trade, give, or in any other way distribute your personal information to any third party.                                                         
2. Do Not Honor
Your issuing bank refuses to grant their authorization for this transaction for many possible reasons. 

Solution: If you get this error, please contact your bank and request authorization. 

3. CVV or CVV2 
You enter an incorrect card verification value,CVV or CVV2.  

Solution: If you get this error, please double-check the number and retype it. 

4. Insufficient Funds
This means that there is not enough money available in your bank account to pay for your purchase. 

Solution: Refill the funds on your bank account in order to fix this error. 

4. Invalid Card Number
This means that you have entered your credit card number incorrectly.

Solution: Please double check your credit card number and update your card details.  

5. Restricted Card
Restricted doesn't always mean permanently closed. The restriction most likely means that you made some unusual changes to the account, or you went over the limit.

Solution: Please contact your bank to find out why exactly the card was restricted. 
Frequently Asked Questions About Payment(FAQ)
1.Is this a reliable website?
Absolutely! Our online headshop is one of the fastest growing startups thanks to our relentless dedication to providing the best customer service in the industry.
Our website is 100% PCI compliant, and all customer information is encrypted via 256 bit military grade encryption. All credit card info goes directly through Authorize.net, the industry standard payment gate way used by all major online retailers. Our support staff have NO access to your credit card information aside from the last 4 digits of your card number. 

2.Do you store payment or banking information in your systems?
When you place an order with us, your payment or banking information is encrypted and secure through the Payment Card Industry Data Security Standard (PCI-DSS). It is stored just long enough for the transaction to go through, and then is permanently deleted. We do not store any payment or banking information on our systems, and so have nothing to delete if requested.
4.Does DinoNail Accept PayPal?
We do not currently accept PayPal due to their restriction on smoking supplies and accessories. We apologize for the inconvenience. 
5.My order was declined but my card was still charged.
Don't worry!
If your order was declined and you did not get an order confirmation, you were not charged.
When you attempted to place an order, your bank automatically placed a pending charge on your account each time you pressed "Submit". These pending charges will be released in 1-3 business days depending on your bank, and the money will not be deducted from your account. The charges will simply disappear!